Welcome to the ShoreGrass Band website!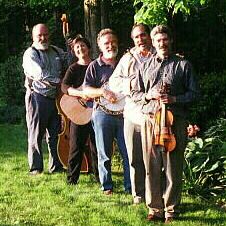 Original ShoreGrass Band (1999) Louis, Barbara, Frank, Paul, Larry
About ShoreGrass
ShoreGrass is a bluegrass band from the Connecticut shoreline comprised of Frank & Barbara Shaw (banjo & guitar), Louis Audette on bass and various musicians on mandolin, fiddle and Dobro. The full ShoreGrass band is often a quintet, but they also perform in smaller configurations, during which they sometimes call themselves SHORTGrass!  The group has performed locally as well as around the Northeast since 1999. 
Their music is a lively mix of traditional bluegrass, old-time, early country, gospel and folk songs as well as original pieces reflecting their roots in contemporary music with a local flavor. The group has several singers who alternate leads on 3-part vocal harmonies, and that unique bluegrass blend of guitar, banjo, mandolin, fiddle, bass and Dobro. Their musicianship demonstrates the range and uniqueness of each instrument as well as an unusually rich vocal blend, all delivered with the special sense of humor that marks all ShoreGrass performances. 
ShoreGrass has released several singles and four albums, including "In Connecticut" (2001), "Songs of the Civil War Era" (2005), "Going Home" (2007) and "Hummingbird" (2014). Bluegrass Unlimited magazine called their "Going Home" album "a pleasant collection of down-home music that should attract considerable attention for the band."  Sing Out! magazine called ShoreGrass "a refreshing reminder of what bluegrass music is really all about:  a talented, family-based band that seem to truly relish playing and singing together."

The band is currently working on an unusual, special recording project.  More info soon!  Check out our Music page for samples and more details.
For more info about the band, check out our Bio page.
Past Performances
If you wonder whether we're right for your venue or event, here are some of the places where we've performed.  We're sure any one of them would give us a great referral!  On the other hand, if you're not like any of these places, get in touch and we'll discuss.  Also, go take a look at our Photos page to see us in action!
Apple Rehab Saybrook  
Ashlar Village  
Asylum Hill Congregational Church  
Atria Larson Place  
Audette House Concert Series  
Babb's Bluegrass Festival
BACA (Branford Arts & Cultural Alliance) Gallery  
Bauer Park Harvest Festival  
Beardsley Park ZooFolk Concert Series  
Blackstone Library  
Borderline Folk Music Club (NY)  
Brandywine Senior Living  
Branford Chamber of Commerce
Branford Earth Day Festival  
Branford Elks Club  
Branford Family Day Festival  
Branford Folk Music Society  
Branford High School  
Branford Hills Health Care Center  
Branford Historical Society  
Branford River Festival  
Bushnell Park Cafe 
Camp Wightman 
Chaplin Congregational Church  
Chautauqua Healthcare Services (DeFuniak Springs, FL)  
Cheshire Strawberry Festival  
Community Dining Room  
Comstock Ferre & Co, Wethersfield  
Congregational Church in South Glastonbury  
Connecticut State Capitol - BESB Awards  
Country Corner Coffeehouse (MA)  
Cromwell Hilltop Covenant Church  
Deep River Concert Series  
Dolly Madison Inn  
Eagle Pond (South Dennis, MA)  
East Haddam Music on the River Series  
East Hartford Community Cultural Center (EHCCC)
Edgerton Park Carriage House  
Elizabeth Park Pond House  
Elmwood Community Center of West Hartford  
Fiery Hill Festival (NY)  
Firebox Restaurant of Hartford  
First Baptist Church of Lexington (MA)  
First Baptist Church of Shelton  
First Congregational Church of Branford  
First Lutheran Church of New Britain  
First Presbyterian Church of New Haven  
Fish Family Farm in Bolton  
Florence Griswold Museum  
Florida State Bluegrass Festival (with the Fromallovers), (Perry, FL) 
Galax Old Fiddler's Convention (VA)
Guilford Performing Arts Festival
Guilford Savings Bank  
Harbor Village  
Hartland Hollow Bluegrass Festival  
Haverstraw Library (NY)  
Hearth at Tuxis Pond  
Hilltop Farm in Suffield  
Interlaken Inn
Killingly Grange  
Lyme Public Hall  
Madison Farmer's Market  
Middlefield Federated Church  
Mineral Springs Foot Stomp'n Festival  
NEFFA (New England Folk Festival), (MA)  
New Haven Folk Festival  
New Haven Lawn Club  
New London Unitarian Coffeehouse  
Newtown's Edmond Town Hall  
NOMAD Festival (Northeast Music, Art and Dance)  
North Haven Congregational Church Pierpont Series
North Branford Community Center  
Old Fiddler's Convention (with Roger Sprung), (Galax, VA)  
Old Roxbury Station  
Old Stone Church Coffeehouse of East Haven  
Oronoque Village  
Overseas Ministries Study Center of New Haven  
Owenego Inn  
Performing Arts Center of Easthampton (MA)  
Private parties galore....  
Quarry Ridge Golf Course 
Ranchero Village Chapel (Largo, FL) 
Saybrook Point Inn  
Seabury Community
Second Baptist Church of So. Hadley (MA)  
Shady Creek Festival  
Simsbury Community Farm (Chrysalis Center)  
Sounding Board of West Hartford  
South Farms Festival of Morris  
St. John's Folk Traditions Night & Bluegrass Showcase  
Stonington Village Fair  
Sunset King Chapel (DeFuniak Springs, FL)  
Temple Beth Sholom of Manchester  
The Branford Festival  
The Space (Hamden)  
The Outer Space  
Thomas Point Beach Bluegrass Festival (with Al Hawkes Band), (ME)  
Trinity Church Newtown  
Westchester Bluegrass Club (NY)  
White Lilac Tearoom  
Whitney Center (Hamden)  
Willie's Steak House of Manchester  
WDBJ (Roanoke, VA)  
WPKN - live  
WSHU - live  
WWB - World Wide Bluegrass - live