The history in photos goes on and on!
There have been many ShoreGrass alums through the years, and here's a rogues gallery of some folks who have played with us in the past. 
First there was the Professors of Bluegrass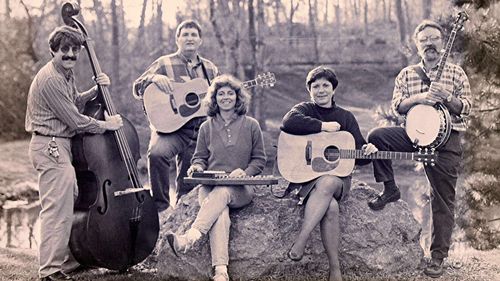 Peter Salovey, Kelly Brownell, MaryJo Brownell, Barbara Shaw, Frank Shaw
This group made their debut at the famous TOAD's in New Haven on February 11, 1993, virtually minutes after Barbara took up the guitar and Frank took up the banjo!   
It all started when Frank began playing guitar with his cub scout den in the Shaws' basement.  One of the cubs was their son and another was the son of Kelly Brownell.  When Kelly came to pick up Matt (his son) one evening and noticed Frank playing guitar, he suggested that we get together sometime to play some bluegrass, since he was a guitar player and also learning mandolin and since Barbara was learning to play guitar and Frank was learning banjo.  Kelly also invited Peter Salovey to join us to play bass, and Kelly's wife Mary Jo (who was learning autoharp) sat in with the group to sing harmony. 
The name of the band came from Mike Spoerndle, former owner of Toad's Nightclub in New Haven, who was a friend of Kelly's.  Mike was a fellow at one of the Yale undergraduate colleges and wanted to put on a party for his students with musical entertainment.  He suggested that we call ourselves "Professors of Bluegrass" since Kelly and Peter were professors at Yale, and asked us to perform at his party at Toad's.   
From a group of friends sitting around the living room picking a few songs, to the rare limelight that has shone on the likes of Bob Dylan and Mick Jagger and just about everyone else famous who has ever held a guitar, we became a real band on the stage at Toad's.  This group played primarily at Yale events and performed at the inauguration of Yale president Richard Levin, among other events during 1993-1995.  The personnel changed over the years, and the Shaws went on to form ShoreGrass, but Peter kept the Professors of Bluegrass going as new students and members of the Yale community expressed interest in bluegrass. 
The tradition continues, and new musicians are occasionally recruited as they arrive at Yale.  This year's edition of the Professors of Bluegrass includes friends of ours, led by Peter (the only original member left), who is now President of Yale!  
Then came the Shaws
It's really handy living with your favorite pickin' partner... Frank and Barbara jumped at the chance to play at any jam, any benefit, any free evening at home.  They played in church, they played at the local soup kitchen, they played anywhere they could anytime they could.  
Then Shore Grass I
Dave Dietrick, Frank, Barbara, Dick Hall
Beginning in January of 1996 at the "Soup for All," Dave Dietrick and Dick Hall were prevailed upon to help us out with a few benefits that needed entertainment.  When Dick moved to Colorado in 1998, we thought the band had disbanded, but others were drafted each year for several years to play at these benefits, including Louis Audette and Jim Lehner.
Then Shore Grass II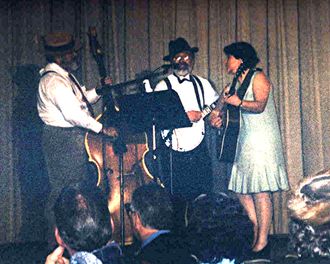 Louis Audette, Frank Shaw, Barbara Shaw
A chance meeting at a "reunion hoot" of friends who had played music at the old coffeehouses around the Yale campus --of which we had never been a part, but to which we were invited-- brought us our new bass player, Louis Audette.  He first played with us at the "SuLu Dinner" in January, 1999 and through much of 2003.
Then finally, the 1st edition of ShoreGrass!